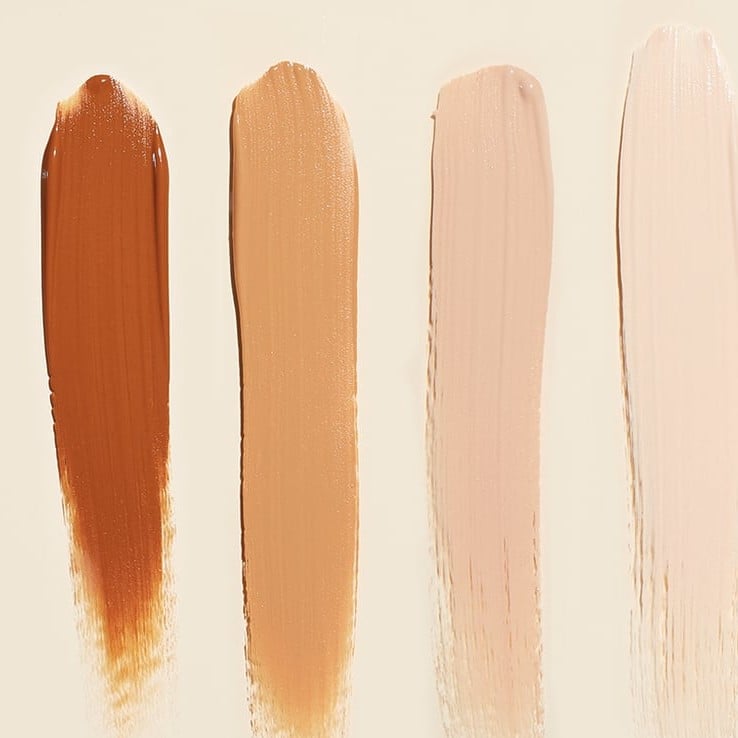 thousands of foundations out there for every look imaginable. While this means you have a lot of options, it can be overwhelming if you're a makeup beginner or if you're trying to pick a new product. Thinking about the type of skin you have and what you want the foundation to do for you can help you find the perfect foundation for you. Your foundation can be good for your skin and help it look its best.
Your Skin Type & Foundation Selection
Use oil-free foundations for skin that is prone to breakouts. A foundation that is thick or has a lot of moisturizer can make your oily skin oilier. Stay away from heavy pancake foundations that can clog pores. Instead, choose a foundation that is lightweight and won't cause breakouts. Look for a foundation with salicylic acid like Clinique's line of foundations for acne prone skin; these formulas can actually reduce or even prevent breakouts
Avoid foundations that can irritate sensitive skin. If your skin reacts to certain cleansers or moisturizers, you may find the same problem with some foundations. Many cosmetic companies, such as Cover Girl and Lancome, have a line of hypoallergenic or noncomedogenic and fragrance free foundations designed for sensitive skin.
Prevent and reduce signs of aging for mature skin. You probably want to stay away from powder based foundations and heavy matte foundations. These can settle into lines on your face and make you look older. Try lightweight liquid foundations with moderate coverage. Also, look for foundations that can protect your skin from further aging as well as improve your skin's appearance now.
Choose a foundation with SPF. While foundations that have an SPF rating are more and more common, many foundations have no sun protection at all, so be sure to check. Makeup lines for sensitive skin often have good sun protection, so those may be a good place to find the foundation you need. Look for a foundation with an SPF of at least 15. Use a good sun screen as well to get the full protection your skin needs.
Use a moisturizing foundation for dry skin. Liquid foundations are probably the best choice for you. Some mineral based powder foundations can nourish your skin too, but typically powder foundations aren't the best choice for dry skin. Department store lines like Dior as well as drugstore cosmetic brands like L'Oreal make rich creamy foundations that work well for dry skin.
Lightweight foundation. If you don't typically have any problems with excessively oily or dry skin, a sheer liquid foundation or tinted moisturizer will even out your skin tone and conceal minor skin flaws.
Figure out your skin's undertone. Undertone is not the same as skin color or tone; your skin tone can change, but your undertone does not. Undertones can be cool, warm, or neutral. In addition to pigment or color, foundations have a cool, warm, or neutral tone as well. In order for your makeup to blend seamlessly with your coloring, it needs to work with your specific undertone.
Test out several foundation shades before buying. Foundations can look very different in the bottle as opposed to on your skin. Makeup counters at most department stores will let you try out different foundations, so a trip to a cosmetics counter is worth your time and effort if you want to avoid making a mistake about the best shade for your skin.
A department store will have multiple lines of cosmetics, making it easier for you to select the right foundation for your skin type and your makeup needs.

Typically the people working at makeup counters are very knowledgeable about a variety of cosmetic lines, and they can help you narrow down your best options.

Even if you don't want to pay department store prices, you can find a good match for your skin there and then find a less expensive brand that is a close or even identical match.
If you have a rosy or pinkish complexion, or a yellow or golden tint, your undertone is warm.

Blue or purple tints, as well as olive or greenish hues, mean you have a cool undertone.

If you don't see a definite tint in one direction or the other, then you probably have a neutral undertone.

Check the veins in your wrist or ankle for clues about your undertone. Veins that look purplish bluish indicate a cool undertone. Veins with a faint green coloring suggest a warm undertone.
1. FIND YOUR SHADE MATCH 
Sure, there's a lot of space for swatching foundations on your forearm, but the skin on this part of your body is a lot darker than your face. Avendaño says to apply potential shades to your chest to see if they are right. "This doesn't have to be an exact match, but maybe slightly lighter because the color is going to shift throughout the day," he explains. "Foundation oxidizes with wear, and naturally gets darker with the mixture of elements and the oils on your face." 
Alternatively, you can test shade options on your face. "Find a spot towards the center of your face and blend out towards the hairline so you match the sides of your cheeks and down the middle of your neck," Martin suggests. "If your neck is lighter than your face and you don't want your face to be as pale, choose one shade lighter than your face so its comparable. (You can always 'warm up' the face with bronzer if your complexion still appears light.) This way it's not too light or that much warmer than your neck."
Whatever method you choose, both pros say it's important to test foundations in good natural lighting. 
2. DON'T FORGET ABOUT YOUR SKIN'S UNDERTONES
Unless you want to color-correct, don't fight against your skin's natural undertones. If you have a warm complexion, go with a shade that has yellow undertones, and if your complexion is on the cool side, a foundation with pink undertones is your best bet. 
You can play it safe with a neutral or warm shade. "I tend to go with neutral and warm shades in my kit because its easier to match on different skin tones and shades," says Martin. 
3. KNOW WHAT COVERAGE LEVEL YOU NEED 
If you hate wearing makeup, you're going to think a full-coverage foundation feels heavy. Understanding the look of every coverage level is the key to picking the right one for your needs. 
You'll still see your skin through foundations with sheer to medium coverage. Avendaño recommends picking a foundation on the lighter side as a default when you're not sure exactly what kind of coverage you need. "I always refer people to foundation that is light to medium coverage because it's buildable," he says.  
When you want a long-wear foundation that doesn't require mid-day touch ups, or have acne or discoloration, opt for a full-coverage foundation. 
4. DON'T FORGET ABOUT YOUR SKIN TYPE 
Matte or dewy? That's the question to ask before swatching foundation shades. Your skin type is an important factor when it comes to choosing finishes. Martin says that dewy foundations tend to work best on normal to dry skin types. "Too much radiance on this skin type looks even oilier and its not a good feeling on the face," he explains. Matte foundations are usually more suitable for combination to oily skin types. 
Avendaño recommends using a satin finish instead of matte on mature skin. "More mature skin can get away with matte but again, just like dewy skin can emphasize flaws and wrinkles, so can matte foundations because the skin has no dimension," he explains.
5. ADAPT YOUR SHADE TO THE CURRENT SEASON
It's true: You won't be able to stick to one foundation shade year-round. "Our skin tends to warm up in the spring-summer while we're more active outdoors and in direct sunlight," says Martin. "Even if you're wearing sunblock every day, our tone warms up."